Have the Moment photographed
We know the burden and responsibility of carrying the ring. It's not easy. The secrecy of maintaining the element of surprise while dealing with everything involved. But we can help to make it work. With English speaking professionals. Ready to record this very special moment with candid and spontaneous photography. And together with our knowledgeable drivers you'll be able to reach any location in Rome for your engagement photos. Your wedding proposal will be remembered exactly as it happened in stunning pictures. Take a look at the portfolio page to see sample imagery or the blog to check out sample proposal locations. 
We'll help you set it up in Rome
Full location support. We know the city well and can guide you in picking the right location. Knowing all the pros and the cons of the different places. Choose from a wide array of options. Ranging from the most beautiful and well known locations in Rome. To the most intimate alleyway that no one knows about. Ready when you are.
Full weather support
A few days before the photo shoot we'll be on the look out for the weather report for any sign or rain. With a back up plan in the drawer just in case.  Ready to reschedule or relocate.  Available with a quick turnaround online contact even when I am on the Go with mobile access for any last minute update.  Let's make it happen.  Rain or shine!
Engagement photo session
If you wish the photo shoot can continue with an engagement session.  Starting from the spot of the proposal and continuing on through the roman city.  By foot or with the help of a car. Casually visit all the best spots guided by a professional photographer.  Bring home unique, romantic and creative engagement pictures of Rome.
All the best tips included
Great local tips to celebrate this special occasion in Rome.  From a typical local taverna or pizzeria to a beautiful terrace view restaurant overlooking the sweeping roman skyline.  We'll try to be updated on local events or happenings that might be interesting to include in the photography session. Connecting travelers with a true local photographic experience of Rome.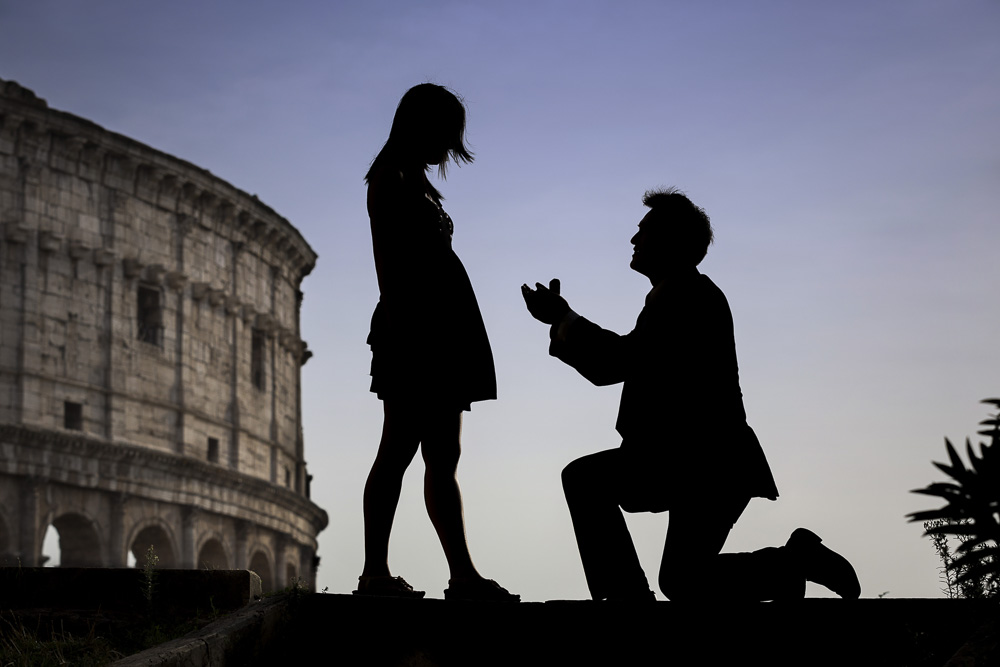 Candid and spontaneous
as if the photographer was not there
My fiance Katie and I cannot give Andrea enough of a positive review as he truly helped make our experience in Rome a memorable one. The pictures he took will adorn our wedding website, Facebook pages, and the walls of our home for a long time.

Matt
Andrea is a incredibly talented photographer and great to work with. He helped to alleviate the anxiety of choosing/working with a foreign photographer; being bilingual really made communication by phone, email, and during our engagement shoot very easy.

Charlie
Andrea was professional from start to finish and a pleasure to spend time with. On the day of the surprise proposal the weather was forecast to be bad, Andrea was more than accommodating to my last minute plans to ensure the proposal went off with out a hitch! The photographs are something we will treasure forever so thank you Andrea

Wayne & Vicki