The Best Rome Wedding Photos Ideas
in Rome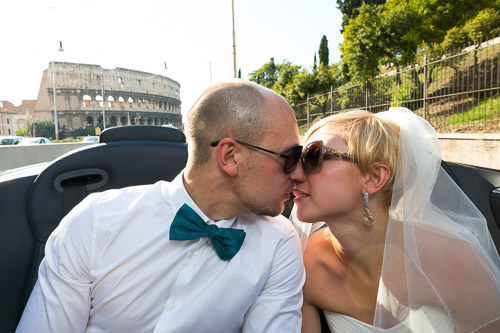 Destination weddings. Bride and groom on a car ride through the city with the Colosseum in the background.
Photography tips
If you are looking for love and romance in your wedding photography there is not better choice to celebrate your Rome wedding; the Eternal city. Love feels like it is around every monument and just about behind every street corner. Capturing this sensation with professional photography is a once in a life time opportunity. And the ideas are endless. Here are some!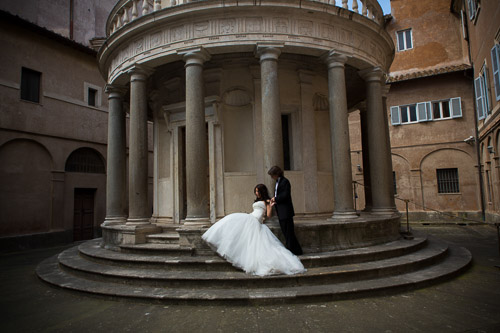 Fine art photography. Chiostro dell'Accademia di Spagna.
Horse drawn carriage ride from Piazza di Spagna
A truly romantic ride could start your rendezvous with a horse drawn carriage from the bottom of the Spanish Steps in Piazza di Spagna or from Piazza Venezia. And into the small alleyway streets of the historical center. Could you imagine how romantic the images could turn out as you ride through the off the beaten track roman streets on a carriage ride!?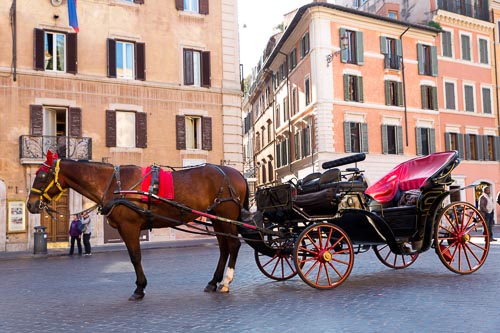 Horse carriage ride in Piazza di Spagna [Spanish steps]
Villa Borghese park
If you wish to color your Rome wedding pictures with some green nature then a stop off at Villa Borghese Park would be ideal.  It could be a nice stroll through the park, a boat ride cruise on the lake, or a hand in hand walk up to the terrace view of Parco del Pincio. The view boasts to be one of the city's most breathtaking panorama. Here is a sample picture of the view.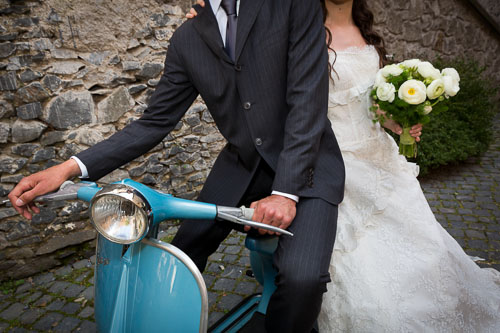 Ride a vintage Vespa antique moped around the city.
Use a vintage vespa scooter in your photos
How awesome is that!? Include pictures of your Rome wedding day on a truly Italian vintage vespa antique. Stylish and refined. Could be a great supplement to include either as unique portrait photography, or as background to more spontaneous images. Hey we could even try to ride it! Hop by all the beautiful locations.
The enchanting view and sound of the Trevi fountain
The extraordinary breathtaking view of the Trevi fountain is a must have location to include in the Rome wedding albums.  But for truly romantic pictures it must be visited either early in the morning or late at night to avoid mainstream crowds. Night time photography can be so enchanting. But if the timings don't allow for this don't worry. There are ways for the photographer to squeeze in some privacy in the picture frames by finding more secluded spots. Don't forget to include the tossing of the coin in the water fountain in the picture ideas. It brings good luck. Legend has it that it will assure a return trip back to Italy. The coin must be thrown with your back to the fountain using your left hand over your right shoulder.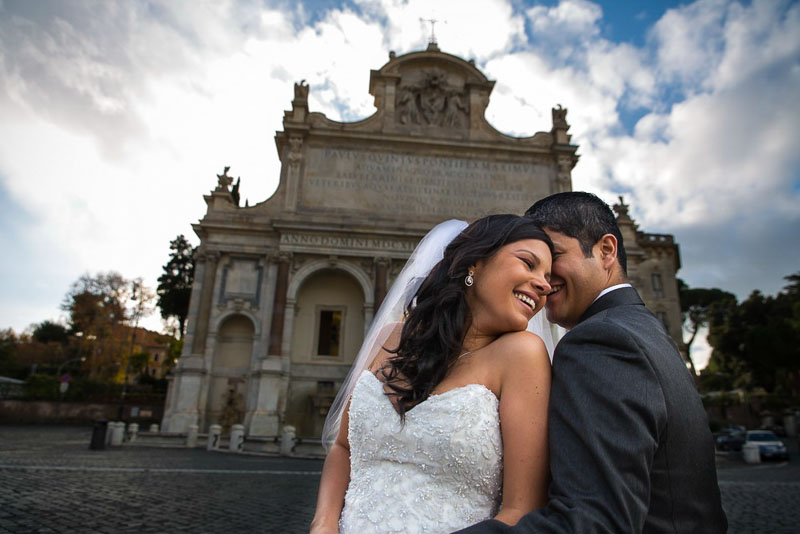 Fontanone water fountain. Gianicolo. Rome.
The Gianicolo water fountain
This is a lesser known spot but great for professional photography as it offers many great views and spots. First off there is the spectacular baroque water fountain, Fontanone dell'Acqua Paola. A very romantic and picturesque place with an interesting photographic contrast between the white marble and the azure water reflection. But there's more! A spectacular terrace view over the roman rooftops. The area is also not excessively crowded as you do need a car or a taxi to reach it. Perfect if you are looking for a more intimate spot.
Roman Pantheon and San Ivo alla Sapienza
Two extraordinary sites set close to one another. The Roman Pantheon. One of the best preserved ancient buildings which stands majestically intact can offer some really extraordinary picture opportunities.  The light shining through the hole or the impressive columns can throw back the imagination to 2000 years ago. Into the glorious Roman Empire.
San Ivo alla Sapienza is a lesser known church and square. But not because of its beauty which is one of a kind. Open only on Sunday for mass and for a very short period of time. The magnificent courtyard is an excellent place for great wedding pictures of Italy with a wonderful baroque feel on an harmonious century building. With its original bell tower soaring high and spiraling in the sky.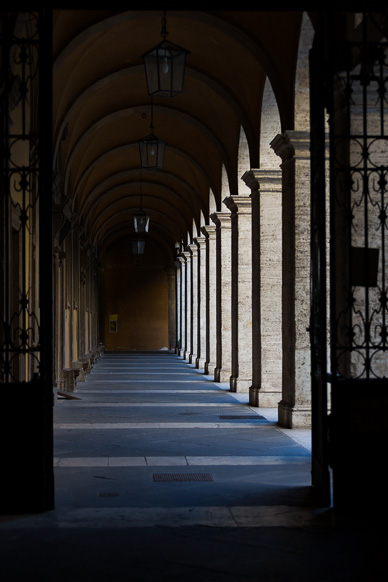 Internal cloister at San Ivo alla Sapienza in Rome.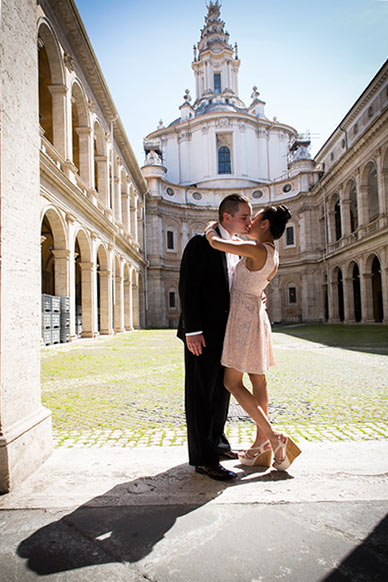 Courtyard cloister at San Ivo alla Sapienza in Rome.
The Tiber island
The Tiber island stands in the middle of the Tiber River, near the Trastevere area in the historical center of Rome. Connected to the Lungotevere degli Anguillara from Ponte Cestio and the Lungotevere dei Cenci from Ponte Fabricio. The island has fabulous views and scenery, especially on the river bank, which can be reached by stairs located on either side of the connecting bridges. You will be able to shoot right by the riverside. This is the perfect place for couple portraits or bride and groom shots. A quiet place that proves to be a great location also for family photo sessions. It also has a unique and privileged view over il ponte rotto (Pons Aemilius) the oldest stone bridge in Rome. Which makes for the perfect backdrop in a truly unique roman location.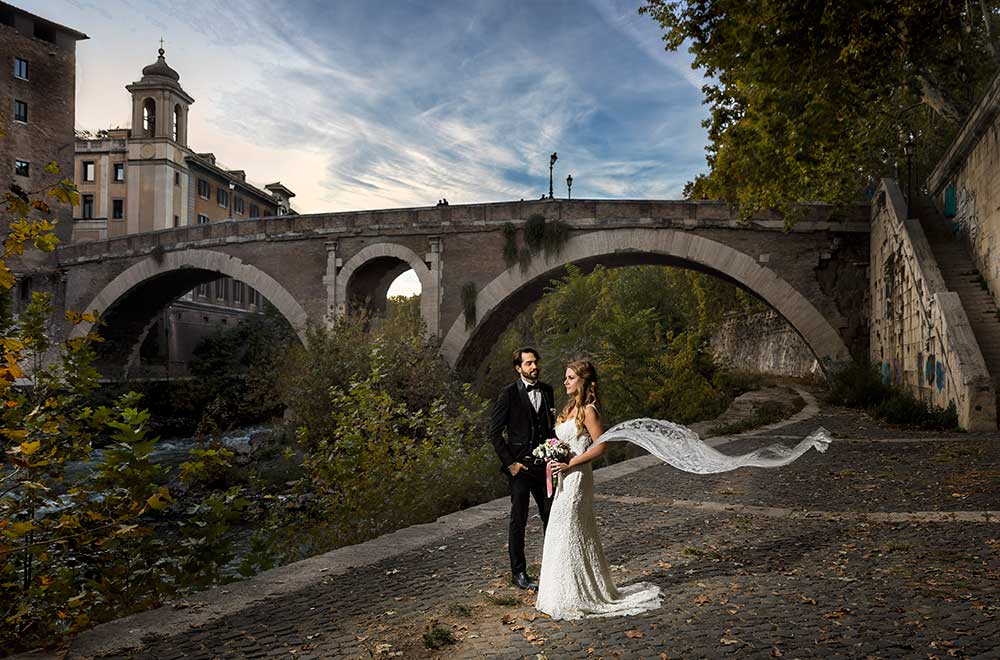 Clivo di Scauro
I first ran into this street by chance many years ago. And I fell in love with the geometries of the arches. Which play fundamental role especially when the light shines through them. Creating dark and light areas which photographers love so much. The problem with this location is that it is a little out of the way to reach. And confined with shoots which take place in around the Colosseum. It is called Clivo di Scauro which is an ancient roman road found on one side near Villa Celimontana and on the other near Circus Maximum and Colosseum.
As you can imagine the options are endless. And this list of ideas, tips and tricks is by no means complete. I will update this page from time to time as I gather more material. In the meantime I hope this can help sparkle some ideas!