Day time photography – part I
---
Trevi fountain
We started this fun and dynamic photoshoot in Rome at the Trevi fountain. Which is a truly one of a kind location. But not the best location for privacy or for breaking the ice on a the start of a photo session. As it can be very crowded and chaotic. But this didn't stop us from getting some great pictures right off the start! Turning this wonderful photoshoot into a very spontaneous and fun photoshoot!
So after the Trevi fountain, we took the off the beaten track alleyways. Shooting in different places of interest that we found along the way. Trying out different poses in a fun and romantic way. Shooting at first by a red FIAT 500. A Cinquecento vintage car. Later under an ancient portico that runs over cobblestone alleyways. Reaching Church of Saints Dominic and Sixtus where we stopped to take some nice posed portraits on the church staircase.
The Monti quarter
The Monti quarter is one of my favorite quarters in Rome to take pictures in. Full of many different unique picture opportunities which are so typical of Rome. Like Piazza del Grillo where we stopped over to take some snapshots in front of the doorway and courtyard. Getting some nice alleyway shots in some truly characteristic roman locations. Including a splendid doorway with warm colored chandelier lights. Where we took some spectacular photos!  Stopping for a quick drink of water from a fountain! Where thankfully no one got their clothes wet! Then we stepped into an alleyway with boasts a truly one of a kind background: Augustus' Forum.  Running into some nice parked scooters to use as prop in some truly typical roman alleyways.
Colosseum
Ultimately reaching the Roman Colosseum. Where we had our own white scooter parked in position waiting for us. Set in a typical roman cobblestone alleyway street with another incredible monument as background: The ancient Colosseum! It's easy to get great shots when you are young and in love in Rome! With a scooter! With the many bystanders walking by and looking in in amazement! Ultimately reaching a terrace hillside view over the Coliseum where we concluded the daytime photoshoot with some final remarkable photos!
Evening photography – part II
---
Pincio terrace outlook
After an afternoon break. We met again with a beautiful change of attire. Continuing the Rome photoshoot at Parco del Pincio which has a phenomenal view over the roman skyline. Where we tried to capture it in creative silhouettes photoshooting against the sun. With the sun being so low on the horizon it was easy to find wonderful light everywhere. There is not a bad picture to be taken when you are walking in love in Rome! So we continued towards Piazza di Spagna shooting where we found inspiration from nice views or poses. Running into a beautiful large bougainvillea plant with bright fuchsia flowers. Which added nice colors to this wonderful couple photoshoot.
The Spanish steps
Reaching the Spanish steps from the above Church Trinita' dei Monti. Taking advantage of the nice blue light that was descending on Rome's skyline. Sitting down on the staircase to take some nice portraits. Snapping off a really cool couple picture with Via Condotti in the far distance lighting up with street lights. Descending the steps down below to the main square. Where we took some nice posed shots by the Barcaccia water fountain. Both isolated as a bust upward portrait. As well as on the other side of the fountain with the Piazza di Spagna staircase in the backdrop.
Via Condotti
Ending this truly wonderful couple photo shoot in Rome on Via Condotti. With some fun pick me up photos taken by the Gucci store among the people that walked by looking in with bewilderment!
Out latest photo shoots taken from the Blog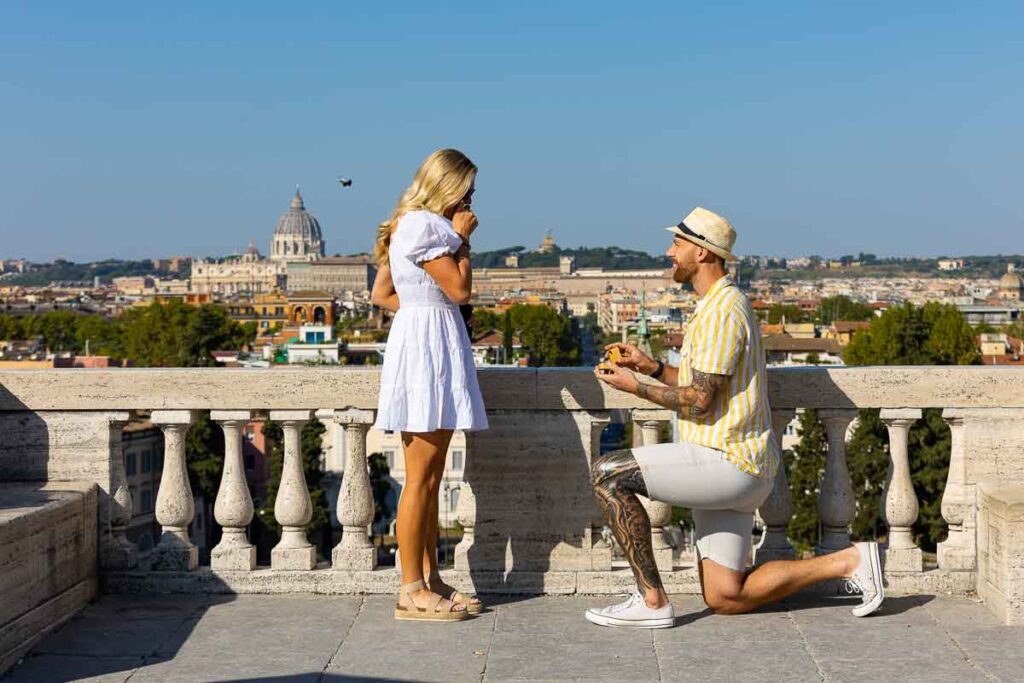 Pincio Terrace Wedding Proposal candidly photographed and video recorded from a distance. Then on an engagement photoshoot in the Villa Borghese park!
Read More
Summary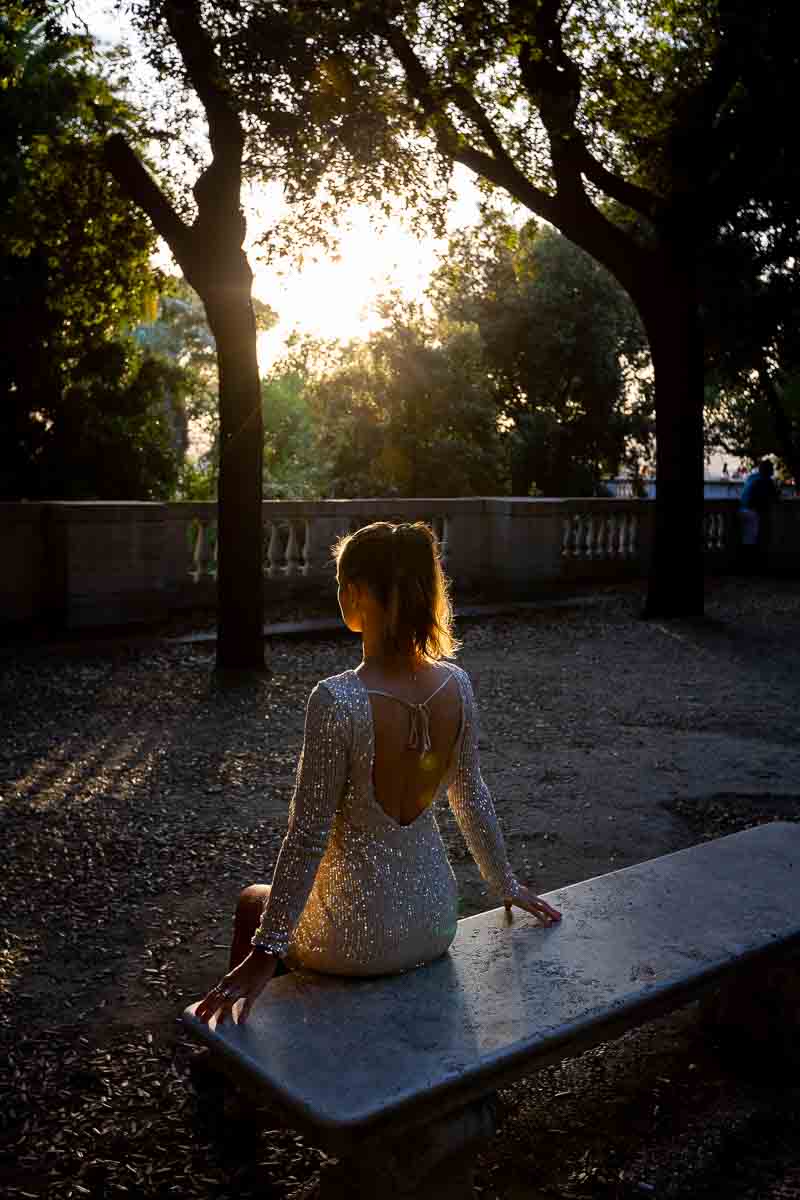 Article Name
Description
A fun and romantic couple photo shoot in Rome divided in two parts. One in the afternoon and the other in the evening
Author
Publisher
Publisher Logo